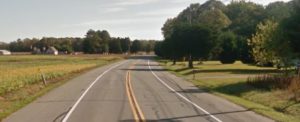 FELTON, DELAWARE (9/24/2016) A 66-year-old man died when his pickup truck hit a tree west of Felton on Friday, the Delaware State Police said.
The crash was reported at 4:11 p.m. in the 3000 block of Willow Grove Road (Route 10).
The victim was identified as Sherman L. Catchings of Magnolia.
Catchings was driving a 1987 Chevrolet S-10 eastbound approaching Pony Track Road when for unknown reasons he went off the south side of the road, hitting the tree in a yard of a home and spinning around before coming to a stop, police said.
He was pronounced dead at the scene by Kent County paramedics.
Willow Grove Road was closed for more than an hour between Mt. Olive Cemetery Road and Pony Track Road as police investigated.
Tow truck driver dies in Route 1 crash