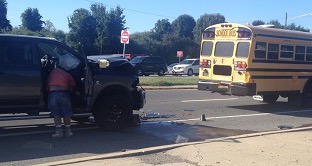 GLASGOW, DELAWARE (9/13/2016) Five students from Delaware First State Military Academy were taken to a hospital after a crash involving a school bus on Monday afternoon, Delaware State Police said.
It happened shortly after 4 p.m. on Summit Bridge Road (Route 896) at Red Lion Road (Route 71).
A northbound 2016 Dodge Ram pickup truck, driven by Keith E. Pyle, 40, of Elkton, Maryland, rear-ended the bus, which in turn struck the rear of a stopped Commercial UTZ fleet truck, driven by Steven Williams, 54, of Dover.
The bus was driven by Ashleigh M. Gladden, 24, of Smyrna, and there were 18 students aboard.
The five students with minor injuries were taken by ambulance  to Christiana Hospital in Stanton, police said.
Williams and Pyle, both wearing seat belts, we're not injured.
Pyle was cited by troopers with inattentive driving.