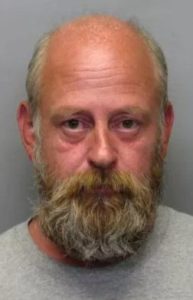 MILFORD, DELAWARE (7/25/2016) A Lincoln man has been arrested for trying to run over a Grotto Pizza employee after not paying his bill at the restaurant, Milford police said today.
The incident happened May 27 at the restaurant in the 100 block of Silicato Way, along Route 1 (Milford Bypass).
Police said Jeffrey L. Hatch, 52, consumed food and beverages but refused to pay for them, then placed leftover food in a carry-out box and went out of the restaurant.
An employee followed Hatch into the parking lot as Hatch got into his vehicle, Sgt. Dwight Young said.
"As the employee stood near the front of Hatch's vehicle, making contact with him about his unpaid bill, Hatch began inching his vehicle forward into the employee's legs. The employee then jumped out of the way of Hatch's vehicle as he suddenly sped forward at a high rate of speed leaving the area," Young said.
Hatch was arrested July 12 and charged with aggravated menacing, second-degree reckless endangering, theft of services under $1,000, offensive touching and multiple traffic offenses.
He was released on $2,601 unsecured bond.