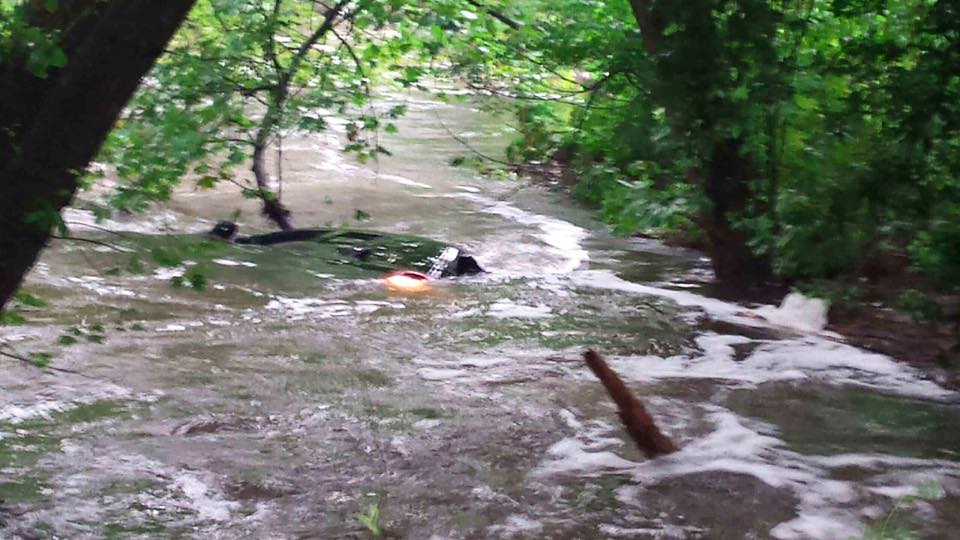 SEAFORD, DELAWARE (7/13/2016) Flash flooding stranded multiple cars on roads this afternoon in the Seaford area, according to the National Weather Service.
At 7:40 p.m.,  Seaford firefighters and emergency medical crews rescued a driver from a flooded car on Bowman Road in the Ellis Mill area. The driver was trapped on the roof of his flooded vehicle after escaping from the car himself. He was taken Nanticoke Memorial Hospital in Seaford with injuries that were not life-threatening, according to the fire company.
It was one of three calls for stranded vehicles the fire company responded to Wednesday evening.
In the afternoon, the fire company helped stranded motorists on flooded Stein Highway get safely to higher ground and no injuries were reported.
At the Oak Grove weather station west of Seaford, near the Maryland line, 5.57 inches of rain was measured between noon and 5 p.m., according to the Delaware Environmental Observing System.
At Laurel Airport, 2.7 inches of rain was measured, and 2.47 inches was recorded at Blackbird in southern New Castle County.
Shortly before 5 p.m., Route 20 was closed between Atlanta and Woodpecker roads west of Seaford.
DelDOT also reported flooding on Mount Pleasant Road near Sharptown Road, west of Laurel.
The weather service issued a flash flood warning until 7 p.m. for western Sussex County.