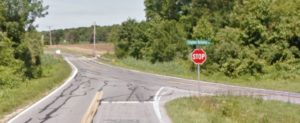 CLAYTON, DELAWARE (5/29/2016) One man was killed and two others injured in a collision involving three motorcycles west of Clayton, the Delaware State Police reported today.
The crash happened about 4:50 p.m. Saturday at the "Y" intersection of Delaney Maryland Line Road and Clayton Delaney Road.
The man killed was identified as Anthony P. Tomme, 67, of New Castle.
He was riding a 2002 Harley Davidson motorcycle and his cousin, John B. Tomme, 56, of New Castle, was on a 2001 Harley-Davidson. They were westbound on Delaney Maryland Line Road and had stopped at a stop sign, then proceeded into the intersection, police said.
David R. Staley, 27, of Smyrna, was riding a 1996 Honda CR9 motorcycle eastbound on Clayton Delaney Road and had the right-of-way, police said.
Staley and John Tomme collided nearly head-on, with Tomme's bike stopping in the intersection and Staley's traveling off the south side of the road into a wooded area. Both riders were ejected from their bikes.
Police said Anthony Tomme's motorcycle fell to its right side and came to rest on top of him, but it wasn't known if he collided with the other bikes.
Anthony Tomme was wearing a skull-cap type helmet and suffered severe head injuries. He was pronounced dead at the scene.
Staley and John Tomme were both flown by state police helicopter to Christiana Hospital in Stanton and admitted for treatment of undetermined injuries. Police did not know if either had been wearing a helmet.
The intersection was closed about 3.5 hours as police investigated and the wreckage was cleared.
Police said they are still investigating but speed and alcohol do not appear to be factors in the crash.
Any witnesses are asked to call Sergeant P. Dzielak at 302-365-8484
Tips also may be submitted anonymously through Delaware Crime Stoppers, which offers rewards, at 800-847-3333 or www.delaware.crimestoppersweb.com.
Police say Bear man died after Route 1 road rage