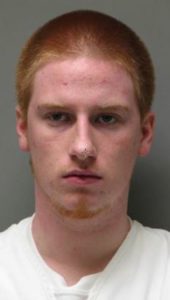 BEAR, DELAWARE (5/28/2016) A 20-year-old man was arrested inside a home he was burglarizing in Bear after a neighbor spotted lights where the owners were away, New Castle County police said this morning.
The neighbor in the 200 block of Smalleys Dam Road called 911 about 11:50 p.m. Friday.
Officers surrounded the home and spotted a broken window.
Police said Nathan Kennedy, of the first block of Tracy Drive in Bear, attempted to leave the home but went back inside when he saw officers.
Officers including a K-9 entered the home and Kennedy surrendered, Cpl. Tracey Duffy said.
He was charged with second-degree burglary, attempted theft under $1,500 and criminal mischief. He was being held at Young Correctional Institution in lieu of $3,100 secured bail.