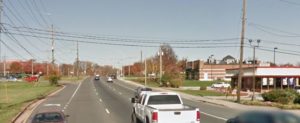 TALLEYVILLE, DELAWARE (5/11/2016) A 45-year-old woman was in serious condition after being struck by an sport-utility vehicle today in Talleyville, authorities said.
The accident happened about noon in the 4100 block of Concord Pike (U.S. 202).
The woman was treated for head and lower extremity injuries, then flown to Christiana Hospital in Stanton by Delaware State Police helicopter, said Sgt. Abigail E. Haas of New Castle County paramedics.
State police are investigating.
Date of Incident: May 11, 2016 Time of Incident: 12:03 HRS
Pedestrian Struck by Automobile