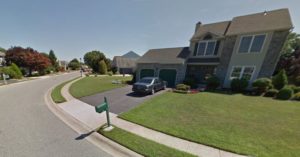 NEW CASTLE, DELAWARE (5/7/2016) A fire that heavily damaged a home west of New Castle on Friday was accidental, the Delaware state Fire Marshal's Office ruled.
Damage to the two-story home in the first block of Charles Drive in the Springfields development was estimated at $250,000.
The blaze was reported shortly before 6 p.m. and flames were shooting from the attached garage when Christiana firefighters arrived, said Michael G. Chionchio, assistant state fire marshal.
He said the fire began with an electrical malfunction in the engine compartment of a vehicle parked inside the garage, then spread to the main part of the house.