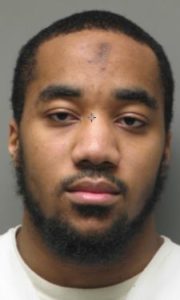 WILMINGTON, DELAWARE (4/29/2016) A 21-year-old Wilmington man was sentenced today to spend 44 years in prison for the brutal beating of a woman in Brandywine Hundred during a home invasion.
The crime happened in January 2014 in the 100 block of Cambridge Drive, in Windsor Hills, and Jermaine Booker was arrested in Newark, New Jersey, two days later when police stopped the victim's stolen car.
The vehicle was displaying a license plate taken from the home of a neighbor of the victim and contained one of Booker's fingerprints, authorities said.
Booker was convicted in January of first-degree assault, home invasion, first-degree robbery, possession of a deadly weapon during commission of a felony, second-degree burglary and misdemeanor theft.
He was sentenced in New Castle County Superior Court.
Judge Charles Butler also ordered that Wright be placed in solitary confinement on the anniversary of the attack for the next 20 years, as a reminder of the violence he inflicted, according to Carl Kanefsky, a spokesman for the state Attorney General's Office.
The case was prosecuted by Deputy Attorneys General Mark Denney and Caterina Gatto.