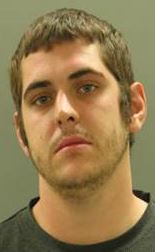 MILLTOWN, DELAWARE (4/21/2016) A suspect in five area home burglaries was arrested after a resident heard a bang and saw a man with a flashlight opening drawers in his bedroom, New Castle County police said Wednesday.
The burglar, wearing dark clothing, fled the home in the 2600 block of Longfellow Drive in the Heritage Farms community about 3:15 a.m. Monday when he realized the resident was home, Cpl. Tom Jackson said.
Sgt. T. Golden spotted a red Cadillac described by the victim on Longfellow Drive and arrested the driver, Salvatore Clark, 27, of Newark.
Jackson said Clark matched the description given by the burglary victim and stolen property was found in the car from the Longfellow Drive burglary and another one reported  by an 87-year-old resident in the first block of Dorkling Court in the Sheridan Square neighborhood.
Later Monday, police linked Clark to three burglaries in the Old Mill Manor development, where Jackson said another person participated in at least one of the burglaries, in the first block of Gristmill Lane.
Clark was charged with two counts of second-degree burglary, two counts of felony theft, two counts of possession of burglary tools and two counts of criminal mischief in the initial two burglaries and was being held at Young Correctional Institution in Wilmington in lieu of $15,000 secured bail.
He will be charged with additional counts of second-degree burglary, third-degree burglary, felony theft, misdemeanor theft, criminal mischief in the other burglaries as well as theft of a motor vehicle, Jackson said.