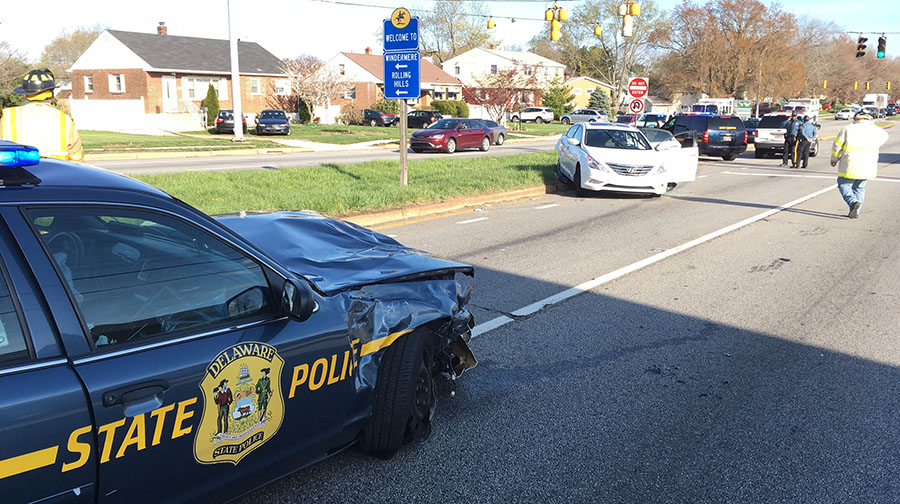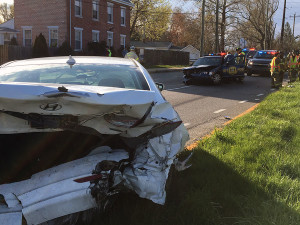 STANTON, DELAWARE (4/10/2016) A Delaware State Police cruiser and another car collided in Stanton late this afternoon, sending both drivers to a hospital, according to reports from the scene.
The crash happened about 5:05 p.m. on southbound Limestone Road (Route 7) at Laura Drive, at the entrance to the Manette Heights development.
Police said the 49-year-old trooper, driving a 2008 Ford Crown Victoria, had his emergency lights and siren on as he was responding to a domestic fight in the parking lot of Michael's Restaurant, 1000 Churchmans Road.
As the trooper approached Laura Drive, he braked to avoid a vehicle in the right turn lane ahead of him. The marked patrol car then began to fishtail, police said, and spun into the southbound travel lanes and struck the rear of a 2013 Hyundai Sonata that was stopped for a red light.
The Hyundai was pushed partially onto the grass median by the impact, with the Ford spinning an unknown number of times and coming to rest straddling the southbound lanes of Route 7.
The driver of the Hyundai, Robert G. Shelly, 80, of Middletown, who was extricated from the vehicle by firefighters, was treated at the scene by New Castle County paramedics and taken by ambulance to Christiana Hospital, where he was admitted for treatment of his injuries.
The trooper, whose name was not released by police, was treated by paramedics at the scene and taken by ambulance to the hospital, where he was treated and released.
State police said southbound Limestone Road was closed at Kirkwood Highway as they investigated the accident.
4 hurt in U.S. 13 crash near Camden; state police car involved