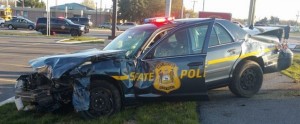 CAMDEN, DELAWARE (4/6/2016) A crash that sent four people to a hospital and involving a Delaware State Police patrol car closed southbound U.S. 13 along Camden's eastern border for about three hours this morning, authorities say.
The accident involving three vehicles was reported at 7:13 a.m. at Old North Road, according to state police.
A 27-year-old trooper was driving a 2011 Ford Crown Victoria marked car southbound on U.S. 13 with emergency lights and siren activated, police said, in response to a call for immediate assistance from another trooper in Woodside.
A Chevrolet Colorado pickup truck and a Dodge Dart car had stopped stopped side-by-side on Old North Road for the red light at U.S. 13, waiting to make a left turn. When the light changed to green for them, both drivers pulled out and the front left fender of the patrol car struck the rear driver's side of the truck, police said. The truck spun around and its passenger-side rear fender struck the driver's-side rear fender on the Dodge.
The patrol car continued southwest and struck a utility pole.
The trooper, whose name was not released, was taken by ambulance to Bayhealth Kent General Hospital in Dover, where he was treated and released.
The driver of the truck, Alice Harmon, 39, of Dover, also was taken to Kent General and admitted for treatment of injuries that police said were not life-threatening.
A passenger in the truck, Robert Silver, 41, of Harrington, was driven to Kent General by a co-worker, treated for minor injuries and released, police said.
The Dodge's driver, Lisa Locey, 46, of Magnolia, was taken by ambulance to Kent General, treated for minor injuries and released, police said.
Camden-Wyoming firefighters responded.
DelDOT closed the southbound lanes and diverted traffic through the town until the wreckage was cleared.
Police said they are still investigating the crash but all involved were wearing seat belts and alcohol wasn't a factor.