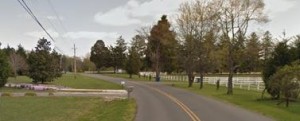 DOVER, DELAWARE (4/4/2016) A 44-year-old man was killed in a two-car crash west of Dover, the Delaware State Police reported Sunday. A 19-year-old driver was injured.
The accident happened about 9:30 p.m. Saturday on West Dennys Road west of Kenton Road.
Edward D. Hudson, of Dover, was driving a 2001 Ford Taurus eastbound when he drove off the south side of the road on a left curve, started to spin around and slid into the westbound lane in front of an oncoming 2003 Ford Taurus.
The front bumper of the Focus struck the Taurus in the right passenger door with both vehicles coming to a stop in the westbound lane.
Hudson was taken by ambulance to Bayhealth Kent General Hospital in Dover, where he died of his injuries, police said.
Hudson was not wearing a seat belt, police said, and speed and alcohol may have been contributing factors on his part.
The driver of the Focus, Taylor C. Tucker, 19, of Hartly, was taken by ambulance to the hospital, treated for minor injuries and released.
The road was closed about 3.5 hours as police investigated and the wreckage was cleared.