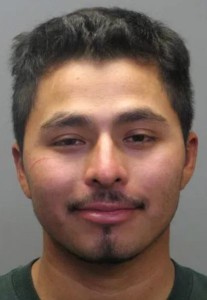 MILFORD, DELAWARE (4/2/2016) A 29-year-old man has been charged with threatening to kill three people and set their home on fire, Milford police reported this morning.
Calling it a domestic incident, Sgt. Dwight Young said Oliver Dominguez, also known as Benjamin F. Gomez, was arrested Tuesday in the first block of Fisher Ave.
He was charged with endangering the welfare of a child, three counts of terroristic threatening and harassment.
Young said Dominguez had made contact with a 48-year-old woman several times and threatened to kill her, a 32-year-old man and a 9-year-old boy as well as set the home on fire.
Dominguez was being held at Sussex Correctional Institution near Georgetown in lieu of secured bond.