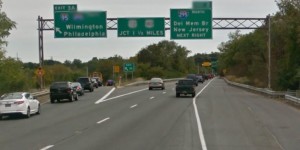 NEWPORT, DELAWARE (3/26/2016) A 38-year-old man was in critical condition after his bicycle collided with a box truck on Route 141 near Newport, the Delaware State Police said this morning.
The crash happened shortly after 7 p.m. Friday in the southbound lanes, just south of Exit 3A for northbound Interstate 95.
The cyclist, John J. Steelman Jr. of Newark, was in the right lane and suddenly entered the left lane in front of a 2015 International box truck that was southbound in the left lane, police said. The truck struck the rear of the bike, ejecting Steelman into the southbound lanes, before it came to a stop.
Steelman was treated by New Castle County paramedics before being taken by ambulance to Christiana Hospital in Stanton.
The driver of the truck, Warren E. Bullock, 50, of New Castle, was not injured.
Troopers are still investigating and said no charges have been filed.
Southbound Route 141 in the area was closed about 3½ hours as police investigated.
Woman critically injured in Route 299 crash near Middletown