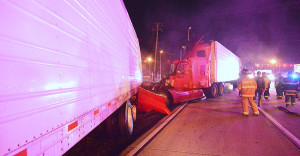 GLASGOW, DELAWARE (3/24/2016) One driver suffered minor injuries in the crash of two tractor-trailers this morning on Route 896 just north of U.S. 40 in Glasgow, the Delaware State Police said. The injured driver was later cited by police.
The accident was reported at 4:24 a.m.
Both trucks were southbound and the accident closed southbound Route 896 (South College Avenue) as well as westbound U.S. 40 (Pulaski Highway) for about 5½ hours.
The northbound turn lane from Route 896 to westbound U.S. 40 also was closed, according to DelDOT.
DelDOT said traffic was being diverted onto southbound Glasgow Avenue to get around the wreckage.
Police said James T. Williams, 57, of Goldsboro, North Carolina, was driving a 2015 KW Dart tractor-trailer in the right lane and began to slow when he was rear-ended by a 2007 Freightliner tractor-trailer. Both rigs traveled about 650 feet after the collision, ending up south of the intersection.
The driver of the Freightliner, identified as Javier Alvarez, 41, of Miami, Florida, suffered minor injuries and declined medical treatment at the scene. Police had originally reported he was taken to a hospital.
Williams was not injured. Police said both drivers were wearing seat belts.
Police cited Alvarez with inattentive driving and no proof of motor vehicle insurance.
Department of Natural Resources and Environmental Control crews were on the scene to deal with spilled diesel fuel.