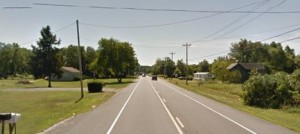 LINCOLN, DELAWARE (3/20/2016) A 78-year-old man has died of injuries from a crash east of Lincoln, the Delaware State Police reported Saturday.
The accident happened about 4:40 p.m. Thursday on Cedar Creek Road (Route 30) north of Benson Road.
Elie A. Evans, of Lincoln, who died later Thursday at Christiana Hospital in Stanton, had been a passenger in a car that was stopped to make a left turn into a private driveway when it was struck from behind by a southbound pickup truck.
Police said the driver of a 2010 Ford Focus, Linda Evans, 50, of Dover, was using her turn signal when her car was struck by a 1998 Ford F-150 pickup driven by Aaron B. Stromer, 17, of Milford. Police said there was significant damage to the car.
Linda Evans and her 3-year-old son were taken by ambulance to Bayhealth Milford Memorial Hospital, treated and released, police said.
Two other passengers in the car, Elie Evans and his wife, Louester Evans, 77,  were taken to Milford Memorial, and she was admitted there in serious condition. Elie Evans was flown to Christiana Hospital.
Stromer did not report any injuries, police said, but a 15-year-old girl who was a passenger in the truck was taken to Milford Memorial, treated for injuries and released.
No charges have been filed in the crash.