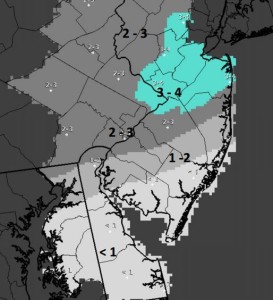 DELAWARE (3/18/2016) A nor'easter arriving Saturday afternoon and evening will bring less snow than predicted previously, the National Weather Service says.
The latest outlook for the storm issued late this afternoon calls for up to 4 inches of snow, but that is farther north of Delaware in eastern Pennsylvania and northern New Jersey.
About 2-3 inches is predicted for extreme northern Delaware, tapering to an inch or less at the southern end of the state.
The southern Delaware snow may begin Saturday afternoon as a rain/snow mix, with other areas being hit Saturday night or Sunday morning. Downstate snow likely will turn to all snow Saturday night but could become a rain/snow mix again Sunday.
Forecasters say the snow will be heavy and wet, sticking to trees and power lines.
The nor'easter also could bring minor coastal flooding, mainly on the Atlantic Coast and Delaware Bay, and wind gusts to 35 mph.
Earlier today, the weather service had predicted up to 6 inches of snow for far northern Delaware.
Photos from January 24 storm: