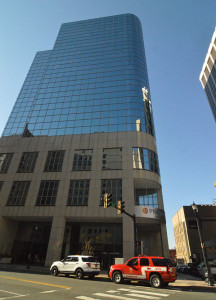 WILMINGTON, DELAWARE (3/9/2016) A water leak forced the evacuation of a Wilmington high-rise building for several hours this morning, authorities said.
The initial alarm at 7: 17 a.m. came from the Brew Haha! restaurant on the ground floor of the 18-story building at 222 Delaware Ave., known as the PNC Bank Center, but firefighters found water flowing down the elevator shaft.
Building security advised the leak was on the 12th floor, and firefighters determined a domestic water pipe had broken in a bathroom.
There was damage to the passenger elevators and some of the floors below, said Battalion Chief James R. Jobes, spokesman for the Wilmington Fire Department, before building management shut off the water supply to the building.
City fire marshals and building inspectors worked with management to restore water and elevator service and determine electrical systems were safe so building tenants could return.