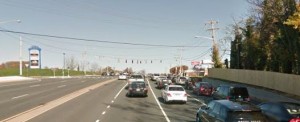 TALLEYVILLE, DELAWARE (2/29/2016) A 20-year-old woman was injured this morning in a rollover crash on Concord Pike, authorities said.
The accident happened about 6:50 a.m. in the 4600 block of Concord Pike (U.S. 202).
The woman, already been extricated from the wreckage when paramedics arrived, suffered abdominal and head pain, said Cpl. David J. McKinney Jr. of New Castle County paramedics.
She was treated at the scene and taken by ambulance to Christiana Hospital in Stanton, McKinney said.
The crash is under investigation by Delaware State Police.
Talleyville and Claymont fire companies also responded.