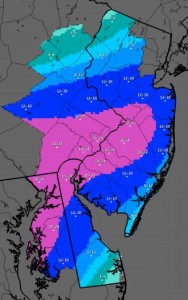 DELAWARE (1/22/2016) Northern Delaware may get up to 2 feet of snow from this weekend's blizzard, the National Weather Service said this afternoon, and Gov. Jack Markell declared a state of emergency at 5 p.m today.
Predicted snowfall amounts diminish moving downstate, with Fenwick Island not expected to get any.
But by 9:40 p.m., Selbyville had the highest snow total in the state, with 3.2 inches.
At 9:20 p.m., wind gusts over 47 mph were recorded at Indian River Inlet, according to the Delaware Environmental Observing System.
Markell's order calls for a "Level 1 Driving Warning" beginning after midnight tonight.
According to state law, a "Level 1 Driving Warning" means that any person operating a motor vehicle on Delaware roadways must exercise extra caution. All nonessential employees, public and private, are encouraged not to operate a motor vehicle unless there is a significant safety, health or business reason to do so.
DART is suspending statewide regular bus and paratransit services on Saturday, as well as SEPTA's Wilmington/Newark line.
DelDOT said it has 330 plows working or on standby to deal with the snowfall.
All public school activities this evening and through the weekend have been canceled.