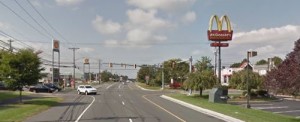 GLASGOW, DELAWARE (1/19/2016) A pedestrian struck by a tractor-trailer late Monday night on U.S. 40 was in serious condition, authorities said.
The accident happened about 10:20 p.m. in the 2400 block of Pulaski Highway (U.S. 40).
The 44-year-old man was found under the tractor portion of the vehicle, said Sgt. Abigail E. Haas of New Castle County paramedics.
He was treated for lower extremity injuries and a possible head injury before being taken by ambulance to Christiana Hospital in Stanton, Haas said.
State police were on the scene investigating.
Aetna Hose, Hook & Ladder Company of Newark responded.