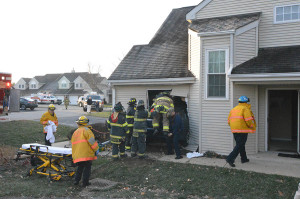 NEWPORT, DELAWARE (1/15/2016) Two women were taken to a hospital after a car struck two homes west of Newport this morning, trapping a resident who had been sitting in a chair against appliances in the kitchen for about 30 minutes until she was freed by firefighters, authorities said.
The accident happened about 7:40 a.m. in the first block of Colefax Court in the Village of Hershey Run community.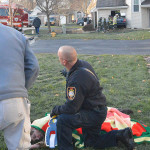 Firefighters extricated the 73-year-old resident from under the wheel well of the car.
The woman was treated for possible fractures of both ankles and taken by Minquas Fire Company ambulance to Christiana Hospital in Stanton in stable condition, said Lt. Michael A. McColley of New Castle County paramedics.
The 60-year-old woman driving the car was able to get out of the vehicle on her own, McColley said. She was treated for a deep leg cut and scrapes of the hand and face. The woman was taken by Belvedere Fire Company ambulance to Christiana Hospital in stable condition.
Cpl. Tom Jackson of New Castle County police said, "The preliminary investigation revealed that the driver of the vehicle backed out of her driveway traveling across the circle and striking the garage door to a residence in the same block. The garage door suffered significant damage but the structure of the residence was unaffected.
"The driver then put the car in drive and proceeded around the circle where it subsequently struck the residence where the 73-year-old victim was located. That residence suffered significant damage and was deemed uninhabitable by the New Castle County Building Inspector," Jackson said.
The 60-year-old woman  was issued a citation for reckless driving and Jackson said the investigation is still on-going.
Cranston Heights and Claymont fire companies also responded.