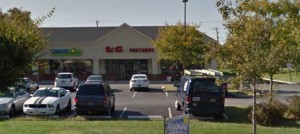 NEW CASTLE, DELAWARE (1/11/2016) Two customers were robbed at gunpoint in the parking lot of a restaurant on U.S. 13 near New Castle, the Delaware State Police said Sunday.
The crime happened about 2:45 p.m. Saturday at L&G Southern Soul Food, 317 S. DuPont Highway (U.S. 13). The restaurant is in a small strip shopping center just south of the 13/40 split.
The couple were getting out of their vehicle when two of four men confronted them, police said.
One man, with a handgun, demanded items from the couple and they turned over money and other possessions.
The victims were not hurt and the four men fled south on U.S. 13 in a blue vehicle.
The man with a gun was described as black, 25-35 years old, 5-feet-8 to 5-feet-11 and 175-185 pounds. He was wearing a dark hooded sweatshirt.
The second man was black, 20-30 years old and 5-feet-5 to 5-feet-7, and 150-165 pounds.
The third was described only as a black male, and the fourth was white, 30-40 years old, 5-feet-10 to 6 feet and 175-200 pounds. He was wearing a hooded sweatshirt and dark pants.
Police asked anyone with information to call 302-365-8566.
Tips also may be submitted anonymously through Delaware Crime Stoppers, which offers rewards, at 800-847-3333 or www.delaware.crimestoppersweb.com.