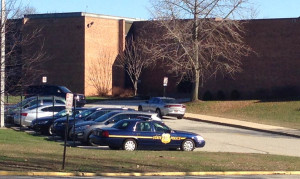 DELAWARE (1/11/2016) Bomb threats were reported at several schools across Delaware today, authorities said.
The latest came at Dover High School, city police said about 12:40 p.m. Officers were searching the building and students and faculty were evacuated.
Dover police said the call came from an automated system as had happened at the other schools.
Dover High officials tweeted at 12:51 p.m. that students would be dismissed at 1:15 p.m. "due to the severe cold and students having evacuated due to a bomb threat."
DHS will be dismissing at 1:15pm due to the severe cold condition and students having evacuated because of a bomb threat.

— Dover High School (@CSDDoverHigh) January 11, 2016
In another Kent County incident, Caesar Rodney High School in Camden received a threat this morning and was evacuated until police checked the building, according to a statement on the Caesar Rodney School District website from Superintendent Kevin Fitzgerald.
"The building was evacuated quickly per our school protocol. The Delaware State Police supervised the search of the school. Once the police gave the administration the "all clear," students returned to class. At no time during this incident were students or staff in danger. The state police investigation is ongoing," Fitzgerald said.
In northern Kent County, the Smyrna Elementary School was evacuated for a bomb threat but Smyrna School District officials announced on their website that authorities had cleared the school and students were returning to the building to finish the school day.
Earlier, Indian River High School near Dagsboro in Sussex County was evacuated, according to the district's Facebook page.
"At approximately 11:15 a.m., the Delaware State Police completed its sweep of Indian River High School and declared the building to be safe. Students and staff have been transported back to the building and the school has resumed normal operations. School will dismiss at its regular time," according to the district's latest statement.
The Indian River students were housed at Clayton Elementary while the high school was evacuated.
In announcing the evacuation at 10:20 a.m., the district said, "Similar threats were also received at several other Sussex County schools this morning."
Seaford Middle School on Stein Highway in Seaford also received a threat, state police said.
And in New Castle County, state police said H.B. DuPont Middle School in Hockessin had received a bomb threat.
State police said the threats investigated by that agency happened between 9:30 a.m. and 10 a.m. "when a robotic style or computer generated voice phone call was received in each of the school's offices."
Nothing out of the ordinary was found after searches using K-9s, police said. Students were allowed to return to classes between 45 minutes and 3 hours later.
State police said a threat was received at a Milford school, investigated by city police, but details were not immediately available.