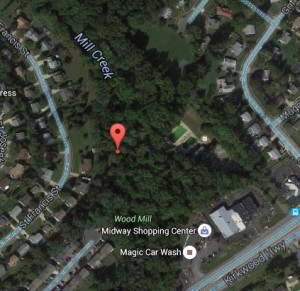 MILLTOWN, DELAWARE (1/5/2016) A 73-year-old man was rescued after falling down a steep embankment into Mill Creek, authorities said.
The incident happened about 1:30 p.m. Monday in the 2300 block of St. Francis St., in the Village of Lindell community.
The man suffered an ankle injury in the fall down the 10-foot bank, said Lt. Michael A. McColley of New Castle County paramedics.
It took fire company rescue crews about 30 minutes, using ladders, ropes and a Stokes basket to pull the man up the bank, McColley said. He was treated for the injury and hypothermia, then taken by Mill Creek Fire Company ambulance to Christiana Hospital in Stanton. He was in stable condition.
Other fire companies responding included Brandywine Hundred, Cranston Heights, Port Penn, Delaware City, and Aetna Hose, Hook and Ladder as well as the New Castle County High Angle and Confined Space Rescue Teams.