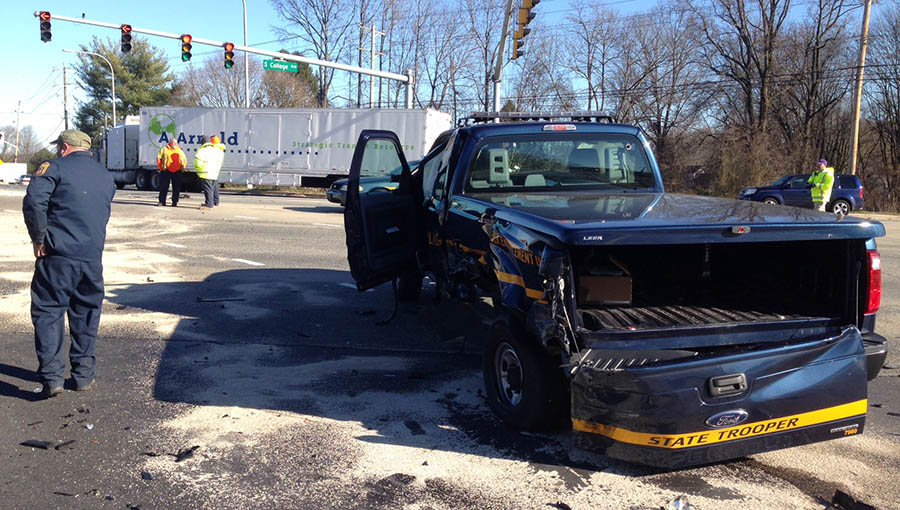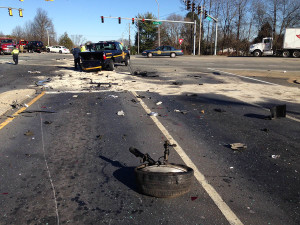 GLASGOW, DELAWARE (1/4/2016) Five people were injured in a six-vehicle crash today at Route 896 and Old Baltimore Pike, according to Delaware State Police. One of the vehicles involved was a marked state police pickup truck.
The accident near Iron Hill happened about noon.
Police gave this account:
Gilbert Hollingsworth, 42, of Cecilton, Maryland, was driving a 2006 Volkswagen Passat eastbound on Old Baltimore Pike approaching South College Avenue (Route 896).
For an unknown reason, Hollingsworth failed to slow for traffic that was stopped for a red light and his car sideswiped a 2011 Chevrolet Impala, driven by a 34-year-old Elkton, Maryland, woman, and a Delaware State Police 2016 Ford F-250 pickup, which was being driven by a 43-year-old trooper. Both vehicles were stopped on eastbound Old Baltimore Pike.
After the initial collisions, Hollingsworth's Passat entered the westbound lane of Old Baltimore Pike where its front then struck the front of a 2013 Volkswagen Jetta, driven by Tiffany Faulk, 32, of Elkton. She was heading west through the intersection.
The Passat continued into the intersection where it overturned several times before striking the rear of a westbound 2000 Ford DRW truck, driven by Christopher Williams, 31, of New Castle.
The Passat  then struck the front of a westbound 2012 Infiniti G37X, driven by Juan Ortiz-Arevalo, 30, of Newark.
The trooper, who was wearing a seat belt, was treated at the scene by New Castle County paramedics. He was then taken by ambulance to Christiana Hospital, where he was treated and released. Police did not release his name.
The driver of the Chevrolet Impala, who also was wearing a seat belt, was treated by paramedics and taken to the same hospital, where she was admitted for treatment of injuries that police said were not life-threatening. Police did not release her name.
Hollingsworth, Ortiz-Arevalo and Faulk were all wearing seat belts, police said. They were taken by ambulance to Christiana and treated for injuries not considered life-threatening.
There were no other injuries.
Police said they are still investigating but alcohol and drugs do not appear to be factors in the crash.
The intersection was closed about 2.5 hours as police investigated and the wreckage was cleared.