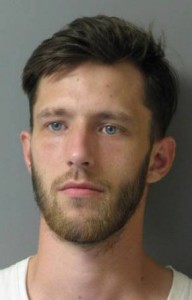 MAGNOLIA, DELAWARE (1/3/2016) A Lewes man was arrested after threatening to blow up a Walgreens pharmacy north of Magnolia if he didn't receive drugs, Delaware State Police said. No explosives were found.
The incident happened about 9:30 a.m. Saturday at 52 W. Birdie Lane.
Curtis Kuhn, 26, approached a 42-year-old pharmacist and placed a note on the counter demanding Percocet and Xanex in a bag, police said.
He told the woman he had explosives strapped to him and if he didn't receive the drugs he and everyone else would be blown up, according to a police statement.
"He also informed the victim that he was being forced to do this by some individuals parked in a car in the parking lot of the business," according to the statement.
After police were called, troopers arrived within three minutes and took Kuhn into custody without incident.
No explosives were found on him and no car as he described was found in the store's parking lot.
No one in the store was injured and there were no evacuations.
Kuhn was charged with first-degree attempted robbery, attempted theft of a controlled substance and two counts of terroristic threatening. He was being held at Vaughn Correctional Center near Smyrna in lieu of $27,000 secured bond.