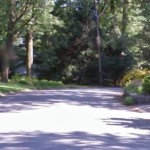 BRANDYWINE HUNDRED, DELAWARE (9/28/2015) Jewelry was stolen from an elderly woman's home as she was distracted by a man claiming to be from a tree service, New Castle County police said today.
The burglary happened Saturday in the first block of Indian Field Road, in the Indian Field development off Darley Road.
The 71-year-old victim left her house to view the tree line with the unknown man who told her he was working for a neighbor.
She told police Sunday she was outside with him for several minutes before he left in a white Ford F-150 pickup truck that had a business logo on the driver's and passenger's side doors.
The man was described as a white male with olive skin tone, about 5-feet-9 and with slim build. He was clean shaven and had short brown hair.
The woman did not see anyone else, but Officer First Class Tracey Duffy said police believe someone else entered the home and took her jewelry.
Duffy asked anyone with information to contact  Detective B. Cunningham at 302-395-8126 or at BCunningham@nccde.org.
Tips also may be submitted anonymously through Delaware Crime Stoppers, which offers rewards, at 800-847-3333 or www.delaware.crimestoppersweb.com.
Duffy also offered these tips to avoid becoming a victim of crime:
• If you're not sure who the person is behind your door, don't open it!
• If you are successfully lured outside of your home, make sure to lock the door behind you. Most importantly, make sure all entryways leading into your home are locked as well. This includes doors, windows and the garage.
• If the "con" is so convincing, call a neighbor or friend nearby to come along and check the perimeter of your home, or check on the visitor before opening your door.
• If the deal sounds too good to be true it probably is.
• Any person who solicits door-to-door sales to a residential home in Delaware is now required to display a Salesperson Identification Card (ID card). To verify that the Salesperson ID Card is not a forgery, the names of all Salesperson ID Card holders will be available on the Division of Revenue website.