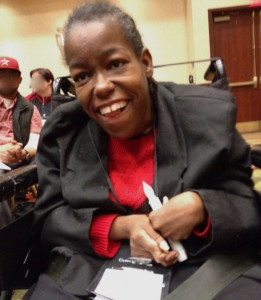 WILMINGTON, DELAWARE (9/28/2015) The American Civil Liberties Union of Delaware is suing the Delaware State Police, claiming troopers used excessive force against innocent bystanders during execution of a search warrant in Claymont last year, beating and using a stun gun on a man trying to cover his half-naked, quadriplegic wife with a sheet.
The civil rights lawsuit, filed on behalf of Ruther and Lisa Hayes of the Rehoboth Beach area, was announced today by Kathleen MacRae, executive director of the state ACLU, and filed in U.S. District Court in Wilmington.
The suit claims the police force used members of its Special Operations Response Team, who arrived in an armored personnel carrier and were armed with riot shields and assault rifles, to search the home of Lisa Hayes' mother in Claymont, where the couple was visiting overnight on June 30, 2014. Police were searching for two grandchildren of the 82-year-old homeowner who were sought on drug charges, the suit says.
"After they apprehended the two suspects without resistance and secured the scene, officers continued to detain and torment the other occupants of the house, including disabled veteran Ruther Hayes; his wife Lisa, a quadriplegic; and their two young children. Officers intentionally failed to accommodate Mrs. Hayes' disability, and attacked and unlawfully arrested Mr. Hayes, leaving him to walk 20 miles back to Claymont from the DSP barracks in Newark," MacRae said in a news release.
Richard Morse, ACLU of Delaware legal director, said, "The use of excessive force on Mr. and Mrs. Hayes is unconscionable. The officers on the scene knew that Mrs. Hayes was severely disabled, yet they held her at gunpoint and ordered her to stand up. Mr. Hayes offered the officers nothing but respect and reason, yet they beat and Tased him, falsely arrested him, and made him walk 20 miles to return to his family after he was released."
Only one of the two suspects sought in the raid was later charged, with a misdemeanor drug count, the ACLU said.
Ruther Hayes was initially charged with resisting arrest but that was later dropped, according to the ACLU.
"The use of the state's S.O.R.T. team – which exists to provide tactical support in high-risk situations such as hostage and armed barricade incidents – to execute a search warrant amounts to using commando tactics to conduct a domestic criminal investigation," said MacRae.
The suit seeks compensation for the victims and creation of new DSP policies and procedures – such as training, counseling and officer supervision.
Read details in the ACLU lawsuit filed against Delaware State Police