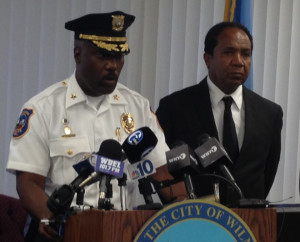 UPDATED STORY: In 911 call, frantic woman says 'He still has a gun'
WILMINGTON, DELAWARE (9/24/2015) The Delaware Department of Justice is investigating the fatal shooting by Wilmington police on Wednesday, authorities said today.
And at a news conference this afternoon, police said four officers were involved in the shooting of 28-year-old Jeremy McDole of Wilmington. The officers were placed on administrative duty pending outcome of the investigation.
"This is a sad and unfortunate situation for everyone involved," said Mayor Dennis P. Williams. "While we all want to have a full understanding of the circumstances which led to the shooting, it is premature to jump to any definitive conclusions surrounding this incident. Chief Cummings and the Wilmington Police Department will aim to be transparent through the investigative process to gain a better grasp of the details that led to this unfortunate incident."
The Justice Department's Office of Civil Rights and Public Trust will determine if police officers complied with Delaware law when McDole was shot to death.
All officer discharges of a firearm that result in injury or death are investigated by the department, said spokesman Carl Kanefsky.
At the news conference this afternoon, Police Chief Bobby Cummings and Williams were joined by New Castle County Councilman Jae Street; NAACP of Delaware President Richard Smith; and family members of McDole.
"I'm sorry for the officers and family of Mr. McDole, as this encounter unfortunately ended with the loss of his life," said Cummings. "I know that this incident could impact police and community relations, therefore, I will ensure a thorough and transparent investigation will be conducted."
Department of Justice investigators went to the scene of the shooting in the 1800 block of Tulip St. and will interview witnesses and examine evidence, Kanefsky said.
Police said Wednesday they went to the scene after reports of a man with possible self-inflicted gunshot wound. McDole, who police said was armed with a handgun, was killed when "a departmental shooting ensued," according to a statement issued by Cummings' office.
"The office will take these steps as quickly as possible in order to provide an account of the incident to the public. Making a determination about whether a person – including a police officer – should be criminally prosecuted under Delaware law is the responsibility of the Delaware Department of Justice and the department will make that determination following investigation in this case," Kanefsky said.
He asked that anyone with direct information about this incident call Special Investigator Frank Robinson at 302-577-8707.
Armed man shot, killed by Wilmington police