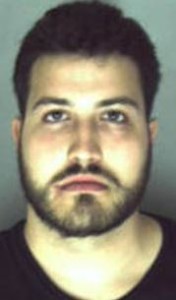 HOCKESSIN, DELAWARE (9/16/2015) A 25-year-old New York man has been arrested in the shooting death last month of 27-year-old Shazim Uppal in Hockessin, the New Castle County police said today.
After a three-week investigation, police said, warrants were issued for the arrest of Benjamin Rauf of Westerlo, New York, on charges of first-degree murder and possession of a firearm in commission of a felony.
He was taken into custody Monday as he left his home by New York State Police and is being held while awaiting extradition to Delaware.
Rauf and Uppal were both recent graduates of Temple University's Beasley School of Law in Philadelphia.
Uppal was found shot to death Aug. 24 in a black Audi parked at the Genesis HealthCare nursing home in the 100 block of St. Claire Drive. County police said he had several gunshot wounds to the upper torso.
Police said a large amount of marijuana was found in the Audi.
Police reveal Hockessin murder arrest
Hockessin homicide victim had large amount of marijuana, police say
Police identify man shot to death in Hockessin