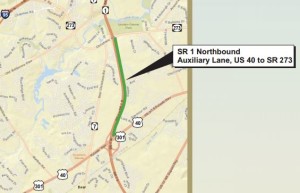 DOVER, DELAWARE (9/10/2015) Work will begin Sept. 21 to create a new "auxiliary lane" on northbound Route 1 in the Bear-New Castle area, the Delaware Department of Transportation announced today.
The $2.1 million project, awarded to Diamond Materials of Wilmington, will create the lane from the U.S. 40 on-ramp to the Route 273 off-ramp.
The lane is expected to ease delays in the area, DelDOT said.
The work is planned to take 75 days and will require sporadic lane closures day and night. DelDOT urged motorists to use alternate routes.
DelDOT said the auxiliary lane being added now is expected to ease congestion for the next five to 10 years as the agency looks at longer-term needs for widening Route 1 between the Roth Bridge and Route 273 to accommodate projected traffic growth.