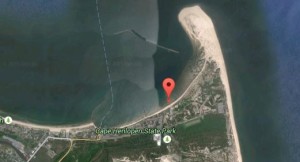 CAPE HENLOPEN STATE PARK, DELAWARE (9/3/2015) The 70-year-old fishing pier at Cape Henlopen State Park will reopen Friday, ahead of schedule, officials announced today.
The pier on the Delaware Bay has been closed for emergency piling repairs since October and wasn't projected to reopen until winter.
The Division of Parks and Recreation said the pier will reopen about 4:30 p.m., but the nearby tackle shop will remain closed until spring, so anglers should obtain bait and tackle before entering the park near Lewes.
In April, the piling repair project was awarded through competitive bid to Commerce Construction of Bridgeport, New Jersey. The contractor completed $400,000 of repairs to approximately 108 pilings, ending the first phase of the pier's latest renovation project.
The second phase includes decking replacement and various repairs to the pier's superstructure and fencing. After competitive bidding, the work will be done over the winter to minimize impact on recreational fishing.
The pier was originally built by the Army to serve Fort Miles during World War II, and consulting engineers for the Department of Natural Resources and Environmental Control have said it has long outlived its useful life expectancy. Repairs were made in 2006, 2008, 2209 and 2012.
The latest project is expected to extend its life for two to five years.
Delaware State Parks Director Ray Bivens said, "This is still only a short-term solution for the iconic and very popular pier" and capital funds have been requested for the planning of a replacement structure.