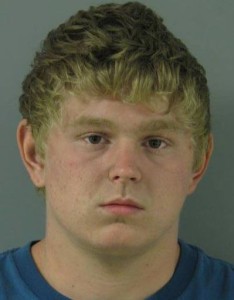 SMRYNA, DELAWARE (8/29/2015) A 17-year-old Smyrna teenager has been charged with impersonating a police officer after attempting to pull a woman's car over using flashing strobe lights on his vehicle, Delaware State Police said today.
The incident began about 12:10 a.m. Monday on Bayside Drive (Route 9) just north of Little Creek.
The 24-year-old woman was northbound when the car she was behind pulled over to let her pass, police said.
Once she passed the vehicle, a tan Chevrolet Impala, it pulled behind her and activated strobe lights placed in the grille and windshield.
Thinking it was a police car, the woman pulled to the shoulder and the car went by.
As she continued north, she saw the Chevrolet again on the shoulder with its lights out, and it again pulled behind her after she passed it and activated the strobe lights.
The woman didn't pull over this time and the Chevrolet pulled alongside her in a no-passing zone for a few seconds before passing her, police said. She then called 911 and the Chevrolet she described was pulled over by Smyrna police on Smyrna-Leipsic Road just east of Big Oak Road.
Edward Steele Jr., 17,  was taken into custody and charged with felony criminal impersonation of a police officer, disorderly conduct, driving without a valid license, driving in a no-passing zone and unauthorized flashing lights. He was released on $1,325 unsecured bond.
Police asked anyone with similar incidents to contact Trooper S. Douglas at 302-378-5749.
Tips also may be submitted anonymously through Delaware Crime Stoppers, which offers rewards, at 800-847-3333 or www.delaware.crimestoppersweb.com.