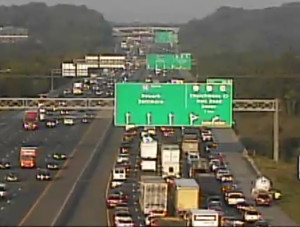 NEWPORT, DELAWARE (8/17/2015) A crash with an overturned dump truck carrying asphalt snarled Interstate 95 near Newport for several hours this morning, with delays on other highways approaching the area.
The crash happened about 6:35 a.m. in the Churchmans Marsh area about a half mile south of Route 141.
DelDOT reported the right three lanes were closed more than three hours.
Delaware State Police said Luis C. Aucay-Lluisupa, 35, of Salisbury, Maryland, was driving a 2007 Chevrolet Express southbound in the left center lane of I-95 and began to make a right-hand lane change when his van struck the left side of a 2003 Mack dump truck.
The impact caused the dump truck to swerve and travel off the right side of the road, where it struck a Jersey barrier and overturned, dumping its load of asphalt.
The van also spun around and hit the Jersey barrier, and came to rest on the shoulder.
The driver of the dump truck, David R. Welter, 44, of Delaware City, was treated at the scene by New Castle County paramedics and taken to Christiana Hospital  for treatment of injuries police said were not life-threatening.
Aucay-Lluisupa was not injured. He was cited by troopers with failure to remain within a single lane of travel and no valid driver's license.
Police said both drivers were wearing seat belts.
Gawker delays were reported on northbound I-95, and major backups occurred on southbound I-495 and westbound I-295 approaching the accident area.