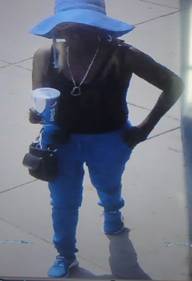 REHOBOTH BEACH, DELAWARE (7/14/2015) City police today released surveillance photos of a suspect in a credit card theft.
The cards were stolen along with a wallet left behind by a man at Grotto's, 15 S. Boardwalk, on July 5.
Two of the cards were used for purchases in the boardwalk area totaling $132.
Surveillance camaras at two locations captured the suspect, police said, described as a black female, wearing royal blue pants, royal blue sneakers, a black tank top and a royal blue hat. 
Anyone with information is asked to contact Det. Tyler Whitman of the Rehoboth Beach Police Department at (302) 227-2577.