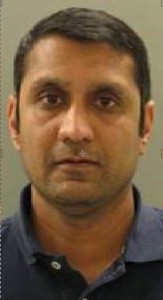 CLAYMONT, DELAWARE (5/30/2015) A Claymont tobacco store owner was arrested on drug sale charges and 450 bags of synthetic marijuana were seized from the shop after a month-long investigation, New Castle County police said.
Nipesh Patel, 40, of the 100 block of Trout Stream Drive in Newark, was charged Wednesday with possession with intent to deliver a controlled substance and possession of a controlled substance in a Tier V quantity.
He was being held at Young Correctional Institution in lieu of $360,000 secured bond.
Police said they seized  1,854 grams of synthetic marijuana, 3,770 gel caps and $4,882 in suspected drug proceeds when they searched Deep World Tobacco at 315 W. Ridge Road on Tuesday.