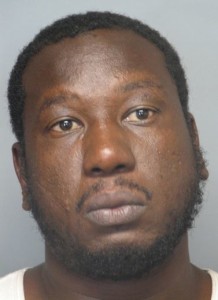 WILMINGTON, DELAWARE (5/18/2015) Wilmington police today asked for the public's help in locating a murder suspect.
Damian Thomas, 38, of Wilmington, was named earlier as a suspect in the fatal shooting of 38-year-old Deshannon Reid in the first block of W. 27th St. on April 15.
Police have been pursuing leads in the case but have been unable to locate Thomas.
Anyone with information is asked to contact Detective Thomas Curley  at 302-576-3625 or 302-985-3475.
Also, the Wilmington Police Crime Reward Fund hotline can be reached at 302-576-3939.
If anyone sees Thomas, police said, they should not approach him but contact 911 immediately.
Wilmington shooting victim dies; suspect identified