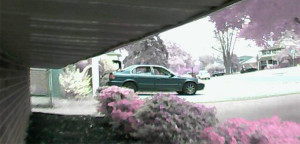 PIKE CREEK, DELAWARE (5/18/2015) Police have released a surveillance photo and other details about a suspect in the theft of copper pipe from a vacant home in Pike Creek.
The theft happened Friday afternoon in the 100 block of Rockrose Drive in the Meadowood neighborhood, New Castle County police said.
Officers responding to a report of a suspicious vehicle found the car gone but found a damaged window and unlocked rear door at the vacant home.
No one was inside but a large amount of water was puddled through the home and police then discovered a large amount of copper pipe had been removed.
Police released a surveillance image of a small green car with chrome spike wheels that had been parked in the driveway.
Witnesses also reported seeing a thin white man with a beard going back and forth between the vacant home and the car, carrying pipes.
Anyone with information is asked to contact Officer LaPointe at 302-395-8100, ext. 8743 or email MJLaPointe@nccde.org.