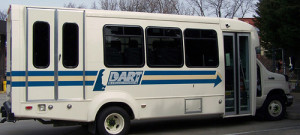 FELTON, DELAWARE (5/16/2015) Four people were taken to a hospital after a car and DART bus collided northeast of Felton, Delaware State Police reported this morning.
The accident happened about 3:35 p.m. Friday at Fox Chase Road and Barratt's Chapel Road.
Carrie L. Chase, 25, of Harrington, was driving a 2003 Pontiac Grand Prix northbound on Fox Chase and failed to stop at the stop sign, striking the passenger side of the westbound bus, police said.
The car spun around and came to a stop on Barratt's Chapel Road.
The bus struck a tree and stopped in a yard on the northwest corner of the intersection.
Chase and her two children, ages 3 and 5 months, were taken by ambulance to Bayhealth Kent General Hospital. She was admitted with undetermined injuries, police said, and the children were treated for injuries not life-threatening.
The driver of the 2012 Ford E-450 bus, Ernest L. Halcomb, 52, of Dover, also was taken to the hospital with injuries not life-threatening, police said.
All involved were wearing seat belts.
Chase was cited by troopers for failing to stop at a stop sign and having no proof of insurance.
The intersection was closed about three hours as police investigated and the wreckage was cleared.
3 hurt in motorcycle crash on Route 273