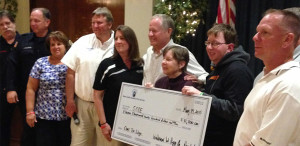 TALLEYVILLE, DELAWARE (5/14/2015) Firefighters from across New Castle County presented Special Olympics Delaware with a check for $11,700 tonight.
The contribution was presented at the Talleyville Fire Company at the monthly meeting of the New Castle County Volunteer Firefighter's Association along with the county Volunteer Fire Chief's Association, Fire Police Association and Volunteer Ladies Auxiliary.
The firefighters named Special Olympian Matt Montgomery the ambassador for the several organizations as well as making him an honorary fire chief.