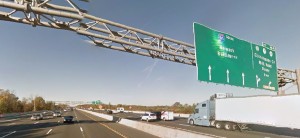 NEWARK, DELAWARE (5/14/2015) The speed limit on part of Interstate 95 in Delaware is being raised.
The limit will go from 55 mph to 65 mph next week, according to the Delaware Department of Transportation, from the Maryland line to the I-495 split south of Wilmington.
DelDOT crews will start changing the signs in both directions beginning Monday and hope to have the work completed by Thursday, May 21. Weather may delay the changeover.
The work will be done between 9 a.m. and 3 p.m. and will require shoulder closures, DelDOT said.