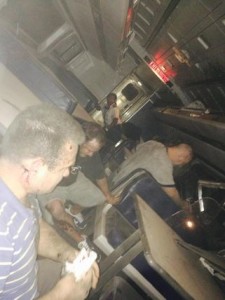 UPDATED STORY, PHOTOS, VIDEO: Death toll climbs to 8, NTSB says train going double speed limit
PHILADELPHIA (5/12/2015) At least five people died and dozens more were injured when an Amtrak northeast regional train crashed in the Port Richmond section of Philadelphia this evening, according to Mayor Michael Nutter.
The train was No. 188 from Washington to New York, with a scheduled departure from Wilmington at 8:41 p.m. and from the 30th Street station in Philadelphia at 9:05 p.m. The crash occurred a few minutes after it left the 30th Street station, near Wheatsheaf Lane, Frankford Avenue and Interstate 95.
Initial reports said eight of the 10 cars derailed.
Nutter said six cars overturned.
He said 243 people were aboard the train, including five crew members.
Nutter said more than 200 emergency responders were on the scene.
Other officials said 53 people were taken to hospitals, with six of those in critical condition.
Amtrak set up an emergency number for families to call for information: 800-523-9101.
Video from the scene showed a zig-zag line of wrecked cars, with a large beam from a collapsed overhead structure protruding from the side of one car.
Former Congressman Patrick Murphy of Pennsylvania was on the train and tweeted he was OK, sending a photo from inside one of the derailed cars.
Murphy told CBS 3 in Philadelphia that Sen. Tom Carper, D-Del., had been seated across from him but got off at Wilmington.
Amtrak canceled all other trains between New York and Philadelphia.
Video I took moments after crash. People trying to open the door and get off the train. pic.twitter.com/fJ2bxXfmhG

— Janelle Richards (@Janelle_News) May 13, 2015