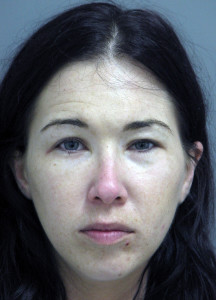 MILFORD, DELAWARE (5/11/2015) A 31-year-old Milford woman was charged with attempting to stab a man and two children during a domestic dispute, city police reported today.
The incident happened Tuesday at a home in the 200 block of NE 10th St., Detective Dwight Young said.
Elizabeth Allman was charged with possession of a deadly weapon during commission of a felony, aggravated menacing, terroristic threatening, endangering the welfare of a child and possession of heroin and drug paraphernalia.
Young said had been in a verbal dispute with a 37-year-old man when she became irate and threatened to kill him and two children in the home, ages 6 and 16.
Allman then grabbed a beer bottle and threw it at the head of the 16-year-old, Young said, barely missing him.
She then allegedly obtained multiple knives in each hand and began swinging them at the man and two children.
Allman also was wanted on two Justice of the Peace court warrants, Young said.
She was being held at Baylor Women's Correctional Institution near New Castle in lieu of $19,500 cash bond.