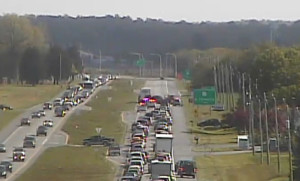 FREDERICA, DELAWARE (5/3/2015) A crash involving a tractor-trailer and a car caused major delays on Route 1 north of Frederica in the second crash near the town this afternoon.
The latest crash happened about 3:25 p.m. in the southbound lanes, state police said, near Barratt's Chapel Road.
Barry Nocus, 46, of New Jersey, was driving a 2010 Perdue tractor-trailer in the left lane, slowing for a previous collision, when he was rear-ended by a 2002 Mitsubishi Eclipse.
Police said the driver of the Eclipse, Vivian Harding, 52, of Harrington, looked down to pick up a cigarette when the accident happened.
Harding was taken by ambulance to Bayhealth Milford Memorial Hospital for injuries not life-threatening, police said.
Nocus was not injured.
The highway (also known as Bay Road, formerly U.S. 113) was closed in both directions but at 4:15 p.m. the northbound lanes were moving again and by 4:25 p.m. all lanes were open.
The latest crash happened in the wake of an hours-long closure due to a fatal motorcycle accident about a mile south of Barratt's Chapel Road, at the bridges over the Murderkill.
Route 1 reopened after motorcycle crash