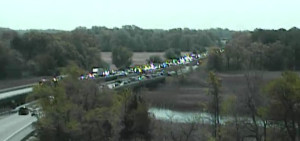 FREDERICA, DELAWARE (5/3/2015) A 60-year-old Lewes man died and a woman was critically injured when their motorcycle struck the rear of a car slowing for traffic on northbound Route 1 this morning, Delaware State Police said.
The crash happened about 11:50 a.m. in the left lane on the bridge over the Murderkill River along Frederica's town line.
John J. Jakobowski, who was driving a 2007 Harley Davidson motorcycle, was taken by ambulance to Bayhealth Milford Memorial Hospital, where he was pronounced dead.
Jakobowski and his passenger, Mary Ann Snyder, 58, of Milton, were both ejected from the bike when it struck the right rear bumper of a 2012 Ford Focus, police said.
Snyder was flown by state police helicopter to Bayhealth Kent General Hospital in Dover, then later flown to Christiana Hospital in Stanton. Police said she was in critical but stable condition.
The driver of the Focus, Kathleen S. Marcoline, 59, of Ohio, was wearing a seat belt and was not injured, police said.
Jakobowski and Snyder were both wearing helmets.
Route 1 (Bay Road) was closed in both directions for nearly four hours as police investigated the crash.
DelDOT directed Route 1 traffic to exit onto Frederica Road through the town to get around the crash area.
All lanes were reopened about 3:40 p.m., but another crash on Route 1 between Frederica and Bowers Beach Road was causing delays.