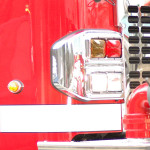 LAUREL, DELAWARE (5/2/2015) A fire that damaged a storage building was caused by 'reckless burning in a fire ring,' state fire officials said.
The blaze in the 25 by 50-foot structure was reported just before 7 a.m. Friday in the 300 block of Sussex Avenue.
Laurel firefighters found smoke showing when they arrived. They were assisted by the Blades and Seaford fire companies in extinguishing the fire, said Harry R. Miller, chief deputy state fire marshal.
He said there were no injuries and damage was estimated at $2,500.
The building did not have smoke detectors installed, he said.
Miller said investigators determined the fire began in the north end of the building when an unknown person was burning in a fire ring and it spread to nearby combustibles.
He asked that anyone with information call the state Fire Marshal's Office at 302-856-5600 or 800-847-3333.