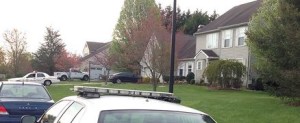 BOYDS CORNER, DELAWARE (4/30/2015) New Castle County police today released a few details in connection with the death of a 20-year-old man at a home in the Misty Vale Farms community near Boyds Corner.
Police are continuing to investigate the death on Sunday, said Tracey Duffy, spokeswoman for New Castle County police. No charges were reported.
"The preliminary investigation revealed the deceased man agreed to engage in a physical altercation with another man prior to his death," Duffy said.
She said the Delaware Division of Forensic Science will release the manner of death when their investigation is concluded.
The victim's name has not been released.
Duffy asked anyone with information pertaining to the incident to call police at (302) 573-2800.
Police investigate death of 20-year-old man near Boyds Corner