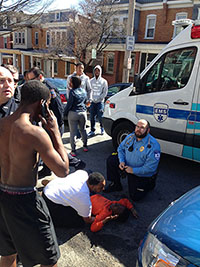 WILMINGTON, DELAWARE (3/29/2015) An 11-year-old boy was struck by a car in the 1300 block of W. Sixth St. this afternoon, according to reports from the scene.
The accident happened about 2:30 p.m.
The sedan remained at the scene.
The youth, who reportedly was darting between cars when he was hit, was taken by ambulance to Nemours/A.I. DuPont Hospital for Children in Rockland in serious condition with multiple fractures and a head injury.
Wilmington police are investigating.